---
Welcome to Bliss Fitness Oakland
A Friendly Place to Feel Good in Your Body!
We help Oakland-area folks who are "allergic to the gym" develop a strength and fitness routine without feeling awkward, embarrassed, or overwhelmed so they can FINALLY find joy in movement and appreciation for what their bodies can do.
We take a judgment-free approach to fitness, allowing our customers to come as they are and learn how to get fit and stay healthy without intimidating tactics.
Let us help you find your fitness Bliss.
Bliss is an Intimate and Welcoming Fitness Studio in Oakland
We have a gorgeous studio with beautiful exposed brick and timber architecture, and tons of natural light from skylights and windows. Our clients and team love being in this space. We are in the Piedmont neighborhood, closely bordering Temescal and Rockridge – this is a thriving and growing area with both residential and commercial neighborhoods nearby. Macarthur and Rockridge BART stations are about a mile away.
Join us above Blue Bottle on Broadway at Mather. Find our location.
Small group classes & personal training
Excellent instructors
Massage therapy
Inclusive community
Beautiful space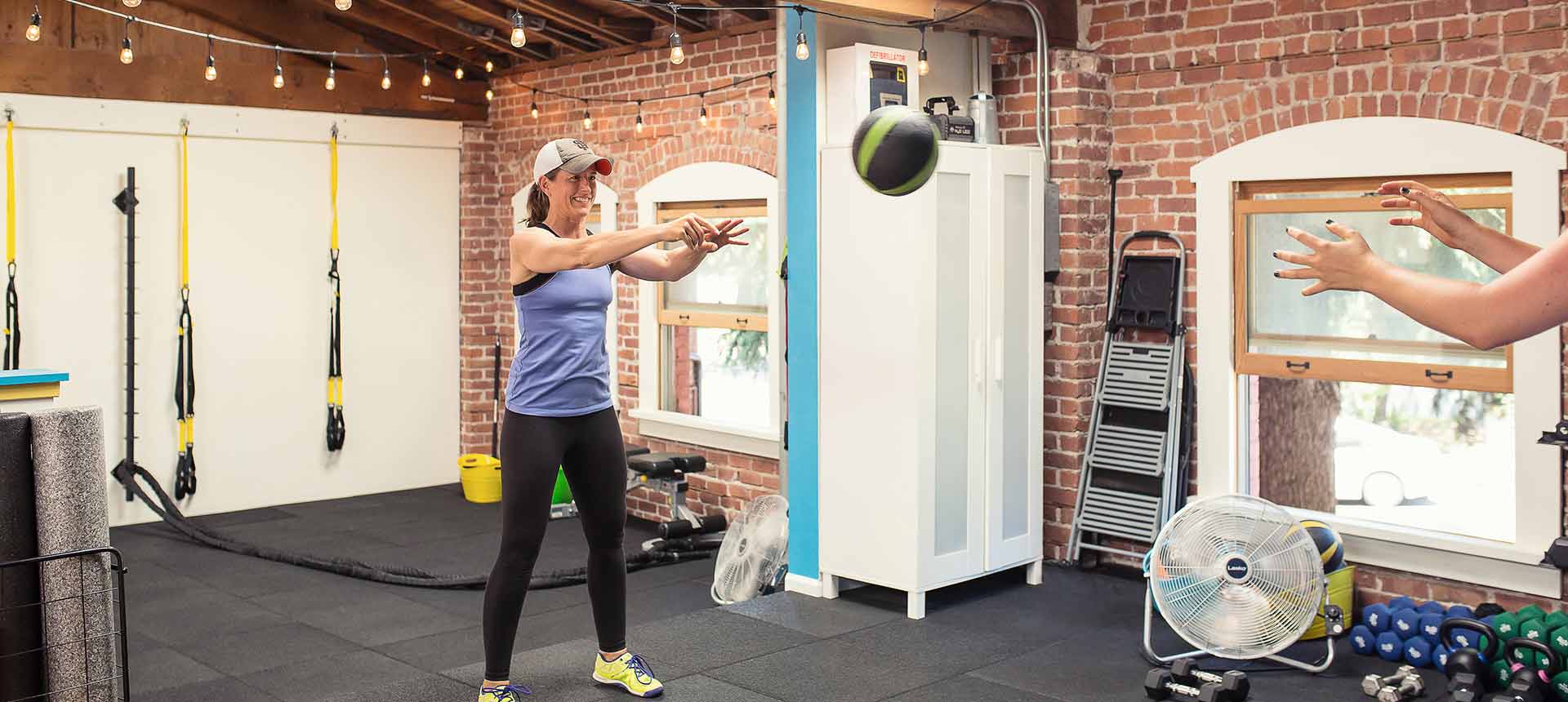 Personal Training
Partner with our excellent and accepting personal trainers.
Massage
Massage and fitness go together like avocado and toast!
---
Our Bliss Buddies
I love Bliss.
The fitness classes are great but I stay for the community. Everyone is really down to Earth and the teachers really have us get to know each other. I go as much for the workout as the social time!
Danielle S.
This is an excellent gym.
Their Core Galore class truly engages the core without being hyper ab focused. Love the fluidity of movement and Shanti's teaching style is supportive and integral.
Aryana F
I love coming to Bliss!
I always feel welcome and I get a great workout. It feels wonderful to sweat and work on strength training and cardio in a fun environment!
Shaylyn G.
Bliss is the best fitness studio in Oakland
All the instructors are super encouraging and motivating, and the owner has created a truly inclusive and beautiful space where everyone feels good and tries their hardest. I love Bliss! Always such a good and engaging workout. I leave sore but happy every time!
Chelsea W.
Thanks, Bliss! xox
Bliss is a bright and beautiful space, filled with a fun and supportive community of people trying to get/be/stay fit. It's obvious that Mona (the owner) has put a lot of love, thought, and attention into selecting the types of classes and instructors. Current, my favorite classes are:
– Shanti's challenging, yet calming yoga class.
– Jordana's TRX class that always kicks my butt, but it's too hard to stop with the great music selection that keeps me going. So much fun!
Megan H.
I just can't say enough about this place.
This is the most beautiful studio I've ever worked out in. And the instructors are so fun and knowledgeable. I've been getting personal training from Mona Meline and she is the best trainer I've had, and I've had several over the years. She creates workouts for me based on my need for variety. She makes sure I'm really warmed up beforehand and stretched out after my workout. She also provides me with a lavender scented cold cloth that is heaven on my hot sweaty face and neck. My strength, endurance, balance, and range of motion have significantly improved since we started training. I've also been benefiting from a monthly massage at Bliss with a therapist who is able to offer feedback to my trainer about the subtle aspects of my body and what areas need more attention, or how I might be favoring one side over another. It's like I have a team behind me.
Joanna R.
A great find.
I'm happy to have discovered this yoga/work out studio. It is very friendly and really creates a warm sense of community. The owner is super nice and supportive. I started with a one month special and tried different classes, which I recommend. I especially love the rebel recess classes – the teacher is great and makes those boring but important exercises fun and the hour goes by fast. The TRX is great too and there's also good yoga classes and personal training available. A great find. Smaller classes mean more personal attention which is nice.
Karen K.
Intimate and comfortable vibe.
I have not been consistent with my practice so I was slightly anxious coming in for a class. The staff and instructor were very kind and welcoming helping me relax and feel at home. I also appreciate the focus on cleanliness and the overall aesthetics of Bliss. Much more of an intimate and comfortable vibe than the big classes offered elsewhere.
Nathalie B.
This is one of the most welcoming gyms I have ever been to!
Bliss makes exercise fun and accessible to people of all fitness levels. The space is great, Mona (the owner) is wonderful and kind, and the classes and workshops are always fun and interesting!
Heather B.
Bliss teachers make hard workouts fun.
I usually find "boot camp" classes kind of a drag, but the element of play in Bliss's Rebel Recess class really works as a distraction from the exercise. It and the TRX classes are amazing workouts and you can modify the exercises. I've also enjoyed all my yoga classes with Shanti as they make my bodywork and feel great, and they're interesting. I wasn't even bored in the vinyasa class, which I often find repetitive elsewhere. This place is really cute, with really friendly instructors, great classes, and lavender-scented mat spray. 🙂
Erica P.
Not your typical gym/studio.
I can't say enough good things about Bliss and it's CEO and Bliss Bringer Mona! I'm embarrassed to admit I haven't written a review considering I've been coming here for over a year. It's not your typical gym/studio. Mona works really hard to make Bliss a welcoming environment that builds community between patrons and encourages them to actually have fun and enjoy exercising. Primarily I've worked with Nicole the personal trainer to build strength and recover from back surgery. Nicole is creative and kind and tough, which is the perfect combo for me. Plus I get stickers after working out And I've been getting massages with Joanne as well. Who uses the Hendrickson technique to help my muscles relax which helps immensely with my chronic pain. Bliss also hosts fun events like rounding workshops (yoga and meditation) and sound healing. I'm so lucky that Bliss exists, so that I can have my exercise and self care needs met in one place. (Not to mention the studio is beautiful and unique with its exposed beams and skylights!) Go seek out events and exercise at Bliss
Robin M.
Perfect balance of being fun, relaxed and mindful
I don't want to write this review because I don't want the secret to get out but also Mona and the crew here 1000% deserve your business so here I am…glow flow with Valerie was amazing – perfect balance of being fun, relaxed and mindful. You can tell that teachers and students really see this as a community. Also the space above blue bottle is kind of magical and the unlimited special for new students is unbeatable.
Jen E.
We highly recommend this gym.
My wife and I have been ardent fans of Bliss Fitness and Health for over two years. I take the TRX classes and my wife loves to get a weekly massage. We highly recommend this gym. Mona, the owner is thoughtful considerate and knowledgeable; her staff is experienced and accommodating.
John M.
A happy and supportive environment.
I love the diversity of classes and the community feeling at Bliss. I ALWAYS get a good work out but it feels like fun. Everyone is so friendly and encouraging. Mona has created a happy and supportive environment.
Do yourself a favor, if you haven't tried a class here, do it!
Bonnie J.
Thoughtful and unique classes!
The space is absolutely lovely and the classes they offer are very thoughtful and unique. Every detail has a lot of love infused in it and the classes offered are the same. If you're looking for a non-pretentious place for great fitness AND community- this is your spot! Mona, the owner is an absolute delight and the people here are fantastic!
Valerie T.
Exercise without feeling like exercise!
Beautiful, airy, welcoming spot next to / above Blue Bottle. I liked urban recess for exercise without feeling like exercise because it's uplifting and yoga because the setting is beyond beautiful and serene.
Lori C.
Fun and great workout!
I really despise exercising indoors. But Bliss has made it fun, and the people that take the classes with me (Bliss Grooves & Urban Recess) are great! It is fun, but also a really great workout. And an extra bonus is how beautiful the location is, and the upcoming massage services. Huge thanks to Mona, and Bliss for getting me more active!
Misty D.
Warm, fun, and inviting.
Warm, fun and inviting are three words that describe both Mona and her gym, Bliss Fitness and Health. The care and attention to detail that go into all of the offerings at Bliss are unparalleled, and the transformation of her loft studio space is spectacular. From sound healing meditations to creative dance and yoga classes, Bliss has your well-being covered, both inside and out.
Laura S.
A seriously great workout.
Love Urban Recess at Bliss Fitness. It's playful, diverse and a seriously great workout. It feels more like a gathering of friends than a class at a workout studio. Thanks Mona!
Jessica A.
An overall wonderful experience.
Gorgeous open and colorful space. Theres a variety of exercise and fitness options available. I've taken the Tuesday night yoga classes with Valerie. She's an amazing teacher who delivers a thoughtful practice. The bliss community is supportive and welcoming making it an overall wonderful experience.
Miranda L.
Great classes. Great community.
So glad I joined this place a few months ago.
Melissa E.
Filled with amazing people who are caring and compassionate.
This place allows people to practice self-love while working out at their own level. It is filled with amazing people who are caring and compassionate. It is the only place I have found where they do practice what they preach. They are supportive and understanding.
Yohana G.
Can't wait to go back
Beautiful space … great intentions behind the creation of it … fun people attending and an incredible woman at the helm! Can't wait to go back …
Liz W.
I'm telling all my friends about Bliss!
Beautiful space, I really loved the feel of the studio and have been enjoying restful yoga on Wednesday nights. Plus Mona is so warm and fun. I'm telling all my friends about Bliss!
Sara N.
Classes always hit the spot
I love the Bliss Fitness & Health studio, it has such a warm friendly community vibe. I leave feeling full of good energy because the classes always hit the spot.
Jamie J.
Personal community vibe
There are lots of workout studios around but this place adds a personal community vibe that you don't get anywhere else. Mona is amazingly and really cares about getting you into the workout that's appropriate for you. Even though I am super out of shape there's no intimidating feeling in the classes.
Jocelyn W.
Doesn't get any better
It doesn't get any better for community fitness in the Bay Area
Bradley K.
Cheerful studio gets the job done!
If you're looking to mix up your usual yoga/pilates workout with some solid cardio, I highly recommend Mona Meline's circuit class on M/W: you won't get bored and it gets the job done!! The cheerful studio is tucked away off Broadway near Piedmont. I'm super proud of my homie!! This was my first class with her and she makes everything fun as usual!
Sandrita V.